North Little Rock High School seniors Skie Edwards and Ifer Rogers both received a scholarship from the THEA Foundation due to their exceptional art work.
This year's theme was Prodigious Resilience.
Skie Edwards
Edwards earned third place, garnering an $8,000 scholarship. The title of her piece is called "Emerging Embrace." It was submitted in the 3D-Sculpture category, using paper mâché, joint compound, and a wooden frame.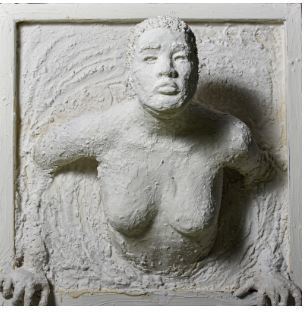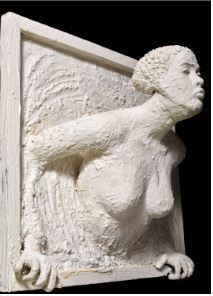 Artist Statement: "Pressure is something that a person can feel from work, school, and their own personal life; the pressure I feel has caused me to struggle with the stress of needing to be perfect, and in turn, causes me to feel lower self-esteem and have negative thoughts and feelings toward myself. I constantly feel like I'm drowning, every time I try to talk, it feels like water is gushing into my mouth and choking me. Whenever I feel overwhelmed, I write or draw, giving myself a safe place to be myself. I have been lucky enough to find people who are there to hear me out, and to comfort me; helping me get the strength to pull myself out of the water."
Ifer Rogers
Rogers placed tenth, which earned her a $3,000 scholarship. Her piece is untitled, and it was submitted in the Visual Arts: 2-D Mixed Media category.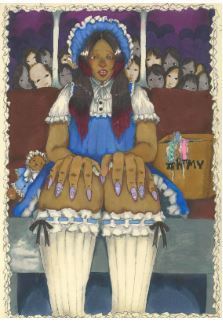 Artist Statement: "Being different is hard, and several people can understand the feeling of being watched, judged, and ridiculed. There is a pressure to conform, and it takes a special person to overcome the hardships of everyday life, anxiety and feelings of being an outcast for choosing to not fit within the social norm. True strength comes from choosing to be true to yourself, and overcoming the judgment of others. I personally enjoy Lolita fashion, stemming from the Rococo period of fancy, the hyper feminine style that embodies fantasization. Although Lolita fashion is not completely seen as norm within society, I find solace as I cope with everyday struggles through the fashion that makes me feel stronger."