Brook Sanchez, a science teacher at North Little Rock Middle School - Sixth Grade Campus, is one of four finalists in the state selected for the Presidential Awards for Excellence in Mathematics and Science Teacher.
The National Science Foundation, on behalf of The White House, oversees the program that recognizes outstanding teachers who have demonstrated a commitment to professional development, innovative teaching techniques, and technology use in their classrooms, according to a news release from the Arkansas Department of Education's Division of Elementary and Secondary Education.
Sanchez, along with the other finalists, will now go before a national committee to determine who will receive the national title.
In addition, Sanchez has been selected as a Cohort 7 member of the IMPACT Arkansas Fellowship. The IMPACT program has a very competitive application process, from which only 22 educators were accepted from across the state of Arkansas. Sanchez will join a cohort of Fellows in an intense 18 month program of coursework, professional learning, and individualized leadership coaching. Upon completion of the program, Sanchez will obtain a Master's Degree in Educational Leadership from the University of Arkansas.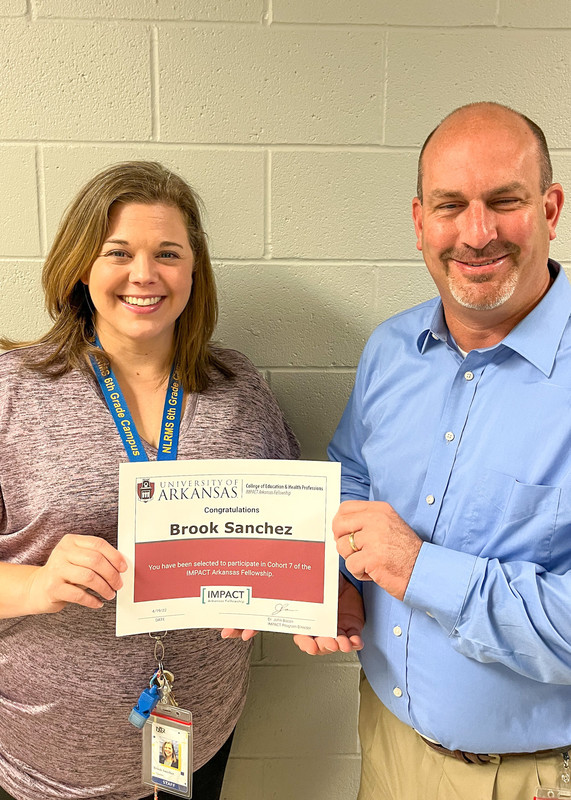 Brooke Sanchez with Michael Clark, Principal at the Sixth Grade Campus