Today, the Arkansas Department of Education (ADE) published Performance Report Cards for each public school in the state. The report provides information about each school and gives insight on other factors, such as test performance, teacher qualification, retention, and discipline. ADE releases this report annually, and the figures – reflected by a letter grade – are based on results from the previous academic year. (In this case, the 2017-18 school term.)
Below are the letter grades for each school in the North Little Rock School District:*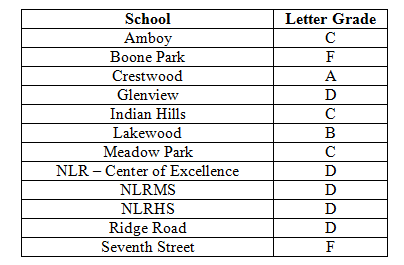 (*Pike View Early Childhood Center is not scored. North Little Rock Academy's scores are calculated into figures for North Little Rock High School.
"We've got work to do, but we're not discouraged," said Bobby Acklin, Interim Superintendent for the North Little Rock School District. "Well before the grades were released, we had already begun making plans to increase student success across the district."
When comparing the grades to that of the 2016-17 school term, Boone Park, Indian Hills, and Seventh Street each dropped one letter grade, while Meadow Park jumped up one letter grade. The remainder of the schools saw no change.
Procedures to improve the academic outcomes in the North Little Rock School District will consist of the following key tactics:
Undergo a Needs Assessment through AdvancED, an educational accrediting organization that conducts rigorous, on-site reviews to ensure that schools have the necessary systems in place to guarantee each student reaches their full potential. This will provide direction on how to reach each student.
Implement R.I.S.E. Arkansas, an ADE-endorsed reading initiative that is geared toward increasing literacy rates among students. R.I.S.E. is an acronym for Reading Initiative for Student Excellence.
Incorporate "Opportunity Culture," a teacher-training program that provides innovative methods for reaching all students, on more campuses. This is currently taking place at North Little Rock Middle School.
Schedule community engagement meetings to keep parents and other stakeholders abreast on progress.
The North Little Rock School District now has a 1:1 ratio when it comes to students to technology.
"We have an energetic and capable team assembled," Acklin said. "They are not satisfied with the letter grades either and are committed to getting things back on the right track. We ask for patience, and we ask for the community to join us in rallying our students to achieve."
To view a specific report card, select the school name from the list below:
North Little Rock Center of Excellence
North Little Rock Middle School