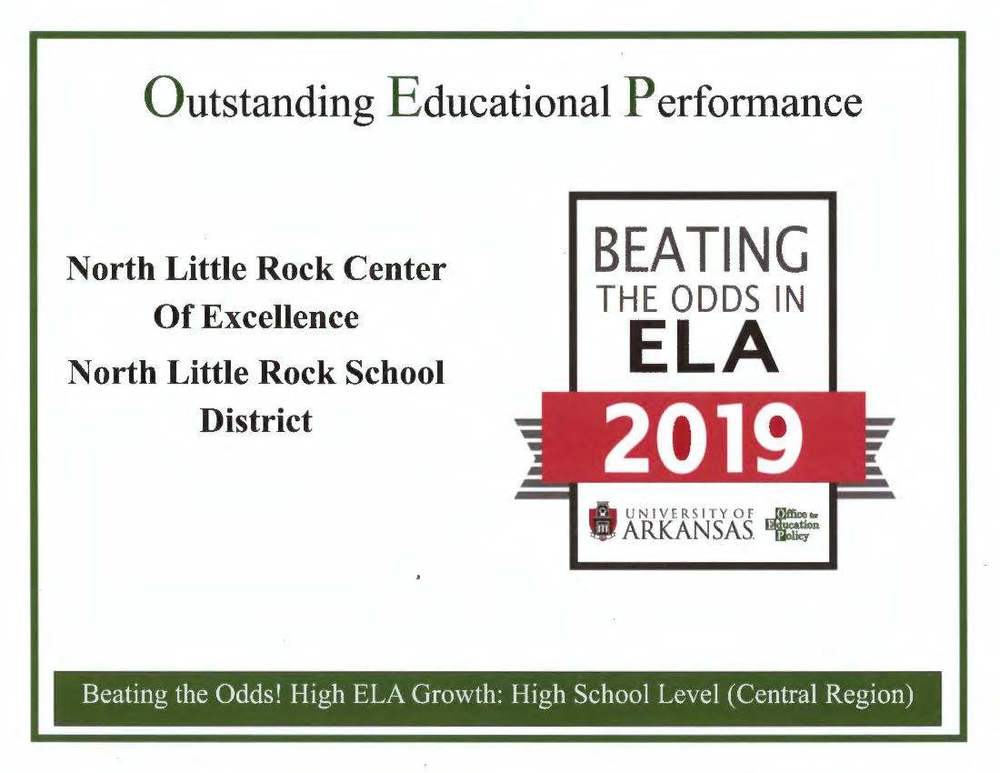 Center of Excellence Recognized for Growth
Dustin Barnes
Thursday, January 09, 2020
The Office for Education Policy, a research center within the College of Education and Health Professions at the University of Arkansas, has recognized the North Little Rock Center of Excellence for demonstrating exceptional growth on the ACT Aspire, which students took in spring 2019. This is the second year in a row that the OEP has recognized the Center of Excellence.
The award is called "Beating the Odds! High Growth ELA: High School Level." The North Little Rock Center of Excellence is in the top 5 when it comes to high schools that serve low-income communities in the central region of the state for growth on the English Language Arts (ELA) section of the ACT Aspire. According to the organization's news release, this award shows that "schools can demonstrate high student growth regardless of the characteristics of the students that they serve."
The North Little Rock Center of Excellence raised its grade on the ESSA Report Card by a letter grade from the previous year, and the school ranked in the top 10 percent in the state for academic growth. The school received $20,600 for reaching this milestone, which was made possible through the Arkansas School Recognition Program, which is overseen by the Arkansas Department of Education's Division of Elementary & Secondary Education. It rewards schools in the top 10 percent where students showed exceptional growth and achievement on the state-required exams.
"We commend the students, staff, and parents of the Center of Excellence for achieving this honor," said Bobby J. Acklin, Superintendent of the North Little Rock School District. "We can never celebrate our students enough when it comes to academic growth."
###