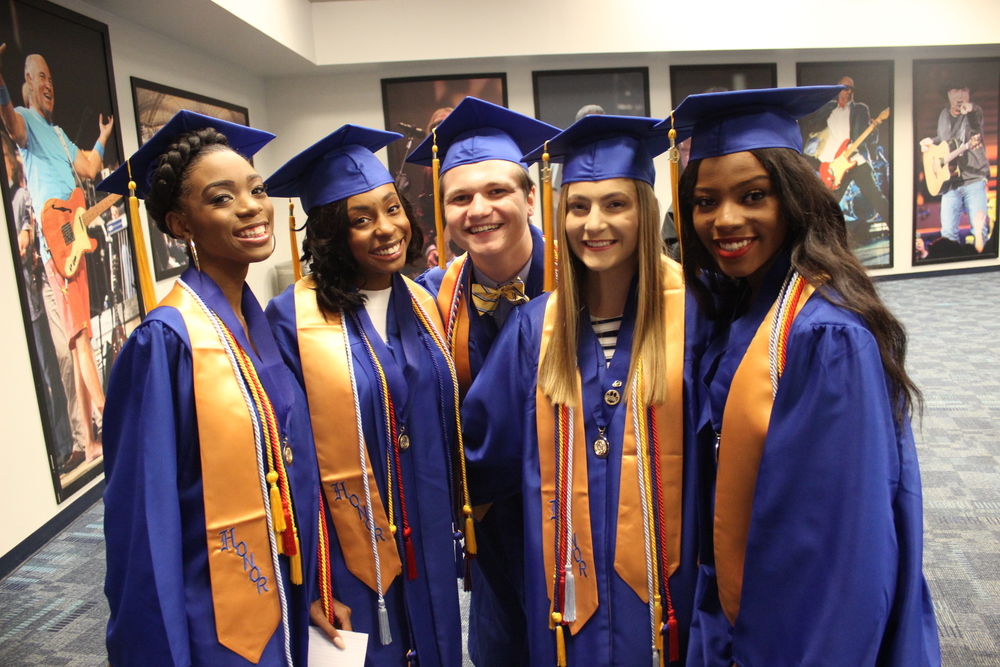 From the Superintendent: A Year in Review
Bobby Acklin
Wednesday, June 26, 2019
Dear Supporter of the North Little Rock School District:
Summer is here, the halls are relatively empty, and we are putting the final touches on the 2018-19 school year. I've been reflective over the past few weeks – looking at the things that took place over the past school year and what needs to happen in order for us to move forward. As Superintendent, my focus will ALWAYS be about moving this district forward. Having that mindset prepares our students to be productive, college- and career-ready citizens, and it empowers our staff to give it their all. We're all in this together because the lives of our young people are at stake.
Here's just a summary of our accomplishments over the past school year:
We have filled the following positions on the administrative team: Assistant Superintendent of Curriculum, Instruction, and Personnel; Business Office Manager/ Federal Programs Bookkeeper; Communications Coordinator; Chief Financial Officer; Director of Special Services; Executive Director of Elementary Curriculum, Assessment, and Accountability; Executive Director of Human Resources; and Manager of Technology. We have named principals at Glenview Elementary and North Little Rock Middle School – Seventh & Eighth Grade Campus. I have thoroughly enjoyed working with this team as we are united in our focus to educate students.
The implementation of the Wilson Reading System has drawn huge excitement and praise not only among our teachers and support staff but also from educators in other districts, parents, and dyslexia advocates. This highly-touted, research-based reading program contains effective strategies that have proven successful in districts similar to ours in ensuring that students can not only read but also comprehend what they're reading. We are looking forward to the results of this program, for we know that if a student cannot read, they will be unable to do math, science, or any of the other subjects.
The Office for Education Policy, a research center within the College of Education and Health Professions at the University of Arkansas, acknowledged Crestwood Elementary, Meadow Park Elementary, Amboy Elementary, North Little Rock Middle, and the North Little Rock Center of Excellence for demonstrating exceptional academic growth on the ACT Aspire exams, taken in spring 2018.
The Arkansas Department of Education presented Crestwood Elementary with a $90,000 check for its results on the ACT Aspire exams, taken in spring 2018. The school was saluted for Top 5% Growth and Top 5% Performance.
Students from North Little Rock Academy were on display at the Arkansas State Capitol as the school's average ACT score improved by nearly four points. Students also achieved a 100% pass rate on the civics exam.
Six students from Crestwood Elementary represented the district at the Odyssey of the Mind World Finals Competition and finished 16th out of 73 teams.
Governor Asa Hutchinson signed the School Counseling Improvement Act into law at North Little Rock High School. This piece of legislation is meant to allow districts to develop a comprehensive school counseling program and plan to have more face-to-face time with students, helping them to navigate through life's challenges.
Seventh Street Elementary's Quest students placed fourth in the Best Business Plan category for Arkansas Capital's Youth Entrepreneurship Showcase. This competition is for Arkansas students in the fifth through eighth grades.
The North Little Rock High School Charging Wildcat Baseball Team brought their "lunchpail mentality" to the 2019 season, overcame odds, and shocked the state by winning the Class 6A State Championship! We are so proud of our student-athletes and coaching staff for their determination to stay the course.
The North Little Rock High School Chess Team did it again! They won the championship for the second year in a row.
U.S. Labor Secretary Alexander Acosta and Lieutenant Governor Tim Griffin toured the North Little Rock Center of Excellence and talked to students about the five career pathways that are available.
We have a significant increase in students who will transfer into our district through the Arkansas Public School Choice Act for the 2019-20 school year. When asked how they heard about our district, parents' responses ranged from our social media communications plan, reactions from family and friends, and the launch of the Wilson Reading System.
The North Little Rock High School EAST Initiative is the recipient of a $30,000 grant, made possible by a student-produced video. The program received a trove of tech gadgets that is certain to enhance student performance and achievement.
The Technology Student Association chapter at the North Little Rock Center of Excellence qualified to compete in four categories at the national competition. This honor comes after they won on the state and regional levels. This is the first year for the organization.
The crowning achievement: We graduated 591 seniors, who earned more than $3 million in scholarships.
As you can see, we had a busy school year. I am proud of our students, teachers, administrators, and staff. Each had a hand in making the year as successful as it was. We made some mistakes along the way. We're not perfect, nor will we ever be. However, it is my goal that we do everything that we can with excellence: in academics, in fine arts, in sports, in teaching, and in leading.
The bar is high for the 2019-20 school year. We have to raise our test scores. We must maintain our budget. We want to raise salaries so that we can attract the very best in the profession. None of these goals are unattainable. We have the assets in place to realize the initiatives needed to move forward.
As a supporter of this district, I thank you for rallying behind this school district. This community has always cheered for this district and has always done whatever was needed to make things happen. We don't want that to ever go away. That's what makes our district special. You are always welcomed into our district. We always need volunteers to help us help our students. Consider reading to our students or serving on a PTA council or some other education-related committee. It takes a whole village to raise a child. A school district thrives only when the community is involved.
I love serving as Superintendent of the North Little Rock School District because I love this district and this community.
Thank you for being a part of us.
Sincerely,
Bobby J. Acklin
Superintendent of Schools