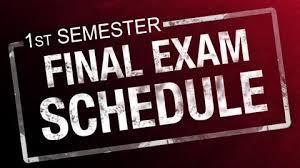 First Semester Exam Info
Staff
Tuesday, December 04, 2018
SEMESTER EXAMS
Periods A1 & A2: Monday, December 17
Periods B1 & B2: Tuesday, December 18
Periods A3 & A4: Wednesday, December 19
Period B3 & B4: Thursday, December 20
Makeup Exams: Friday, December 21
Semester exams will run from 8:30 a.m. to 10:00 a.m. and 10:10 a.m. to 11:40 a.m. - lunch then buses.
Students may be picked up after the second exam as well.
Students only come for the exams they must take.
Makeup exams may only be taken with permission from Mr. Jennings. Exams will not be given early.