EDIT MAIN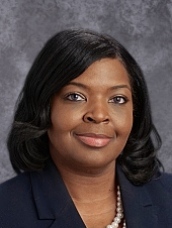 Term expires November 2019
Family: Husband- Kevin Wiley, Two Children
Occupation: Associate Branch Chief/Section Chief, Arkansas Department of Health
Education: Master of Public Health, University of Arkansas for Medical Sciences (UAMS)
Strengths of the North Little Rock School District
Comprehensive and precise school-based policies.
Collaborative efforts and support from communities and key stakeholders who are vested in the best interest of all students and schools.
Qualified teachers and staff who are passionate about providing quality education to all students.
Needed Improvements in the North Little Rock School District
Strengthening and enforcing established policies resulting in improved student achievement and environments conducive to learning.
Utilizing resources that will improve the overall health and well-being of all students and district employees.
Improved safety measures for all students and district employees.
Proper and consistent communication, transparency and respect for all.
What I offer the North Little Rock School District
Experience in policy and management.
Knowledge and leadership skills in school-based programs and interventions.
Budgetary experience- providing linkages to resources for sustainability.
Support to retain good, qualified district employees.
A commitment to improve the health, well-being and academic success of all students.