Attention all 5th graders!!! We are looking for new band students!! This Tuesday and Wednesday are the final 2 band nights to sign up for 6th grade band next year!! You MUST attend one of these nights to be in the 6th grade band for the 2019-2020 school year. Yay Band! What: Band sign-up nights for 5th graders When: February 19th and February 20th Where: NLRMS Large Auditorium Time: 4:00pm-7:00pm (it is come and go)

All elementary schools will hold Kindergarten Round-Up on April 11, 2019 @ 1:30 . Incoming kindergarten students and their parents are welcome to attend at their zoned school. Online registration for all students NEW to the district will open on Monday, Feb. 18.

Congratulations, again, to Seventh Street's Gifted & Talented Class, who placed fourth in the Best Business Plan category in the Youth Entrepreneur Showcase. Their names are featured in Arkansas Money & Politics!
https://amppob.com/youth-entrepreneur-winners-2019/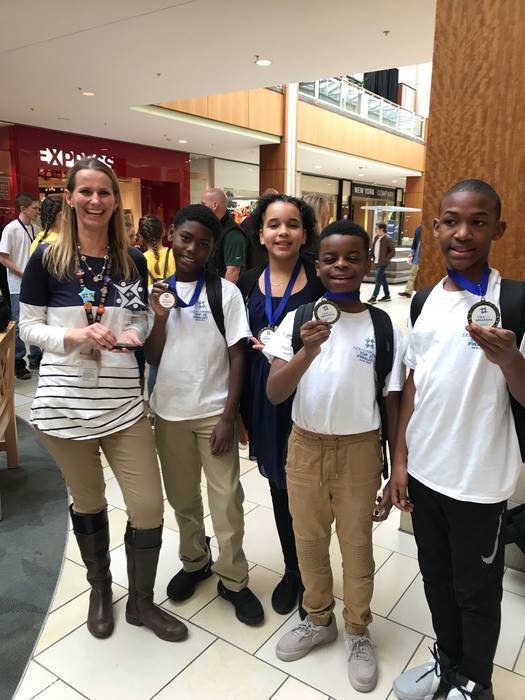 School resumes for students on Tuesday, January 8, 2019. Have a safe and happy New Year!
REMINDER PARENTS!! Please dress your child or children in a red, green, or white uniform shirt with uniform pants for tomorrow Christmas Program. We appreciate your support! :)
Parents Our "Good Behavior Incentive" will be on Friday and students can wear pajams if they do not get written up on a long form, short form, get sent to the office, or phone call home for behavior. Students will recieve a permission slip letter on Thursday and participate in the Polar Express.
Don't Forget TOMORROW (Dec.20th) is our Christmas Program at 8:30 am in the cafeteria. We hope to see you there!

December 21 is Pajama Day! Also, Ms. Esther Crawford is reading Polar Express to the students at 9:30.
Good Evening Parents, Don't Forget you are INVITED to our Christmas Program on December 20, 2018 at 8:30 am in the cafteria. Our students have been working extremely hard and would LOVE to see all of you THERE!
Good Morning Parents, If you have a 4th or 5th girl who is member of C.U.T.I.E.S. Sisters. We WILL NOT meet Tuesday, November 27th after school. Thank you!
Hello Seventh Street Families, Tomorrow Friday, November 16, 2018 we will a good behavior incentive for our students. Students can wear jeans and a non-uniform shirt! Parents you should receive a GREEN form home today, if not students should wear their uniform. Thank you!
The Family Ties Event on Thursday, November 15, 2018 from 5:30-7:00 pm for students and parents has been cancelled. Thank you!
Perfect Attendance Tomorrow November 8th. Must have signed permission slip and money to attended. Call Ms. Durham at the school 501-350-5170 if you have any question.

November 1-2, No School

Nov. 19-23 No School Happy Thanksgiving

Nov. 15 PTA Family Ties Dinner

Nov. 1-2 No School/Fall Break

Oct. 26 Honor Roll Assembly/Perfect Attendance Field Trip

Oct 18 STEM Night at the Museum

Oct. 12 End of 1st Nine Weeks